HUMAN FACTORS/ERGONOMICS: CRD's planning and ergonomic studies include: site requirement studies; blast radius studies if/as required; personnel, task and operational analysis; traffic flow and adjacency studies; unit-to-console arrangement flow diagrams and planning; console layout and accessory planning; emergency equipment planning; glare & reflection studies; and detailed lighting design and fixture specification.
Moreover, human factors studies can help resolve common complaints from the Operators:
Responses from CRD questionnaires (on existing facilities): "Reduce background noise from A/C", "Remove clutter", "People straying thru control room", "Suitable control of lighting at consoles", "Reduce the Open Plan", "No need to swamp the panel with personnel", "Personal storage", "Less people in the control room", "Lighting adjustable around the panel", "Reduction of noise from one panel to another", "Restrict personnel access", "Better radio speakers . . for individual area", "Better chairs", "Sort acoustics to stop noise from other consoles", "Noise distractions", "Lighting reflects on the screens", "Storage & desk space with organized files", "Privacy . . . some form of separation".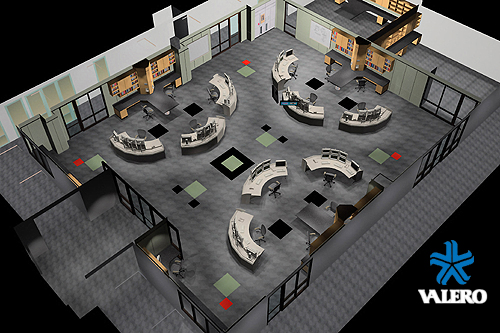 INTERIOR DESIGN: services include room/area planning; space assessment and layout; furniture selection and specifications; design and detailing of custom built-ins and equipment panels; selection of durable finishes and materials to withstand the 24/7/365 duty of operation; color studies and application of finishes that are suitable for the refinery's corporate environment; renderings, models and CAD drawings.
ARCHITECTURAL PLANNING: working in concert with the Client's local, architect of record (if appropriate), or the refinery's GC, our architectural design services include: site planning and layout; control room and control building design; detailing lighting design; bid-level CAD documentation and specifications; coordination of special equipment installation; site visit liaison and punch lists.